News
Now available in bookshops and online!
We are delighted to announce the launch of Phil's new book: 'Transformations: Stories to Tell in the Classroom.'
Transform your primary school classroom into a creative hub of storytelling, writing and reading. Six beautifully told stories with practical teaching material that benefit from over twenty years successful practice.
Available online at: http://amzn.to/1bClpK4
March 2015: Phil was in Hong Kong working with the children and staff at Harbour school as part of there Arts interim Project. Phil worked with a fantastic group of children on a project called the Black Dolphin project. Phil and the children had a great time and they produced a great project for all the school to see.
We are also continuing our long term work in many schools in London,  because of the impact our work has had on the children's progress.
February 2015: Phil was in Turkey working with the wonderful staff and children at the British Embassy Study Group in Ankara. The Oracy to Writing process continues to have a great impact on the achievements of the children at the school.
In January 2015- Phil was in Bonn working with the Bonn International School. This was his first visit to the school. He had wonderful time at the school, and the children and staff made him feel very welcome. The school were so impressed with his visit there are plans for another visit later this year.
Pre-order Phil's new book.
Phil's new book 'Transformations- Stories to tell in the Classroom' will be out on general release in April 2014, but you can now pre-order the book  from Amazon. http://www.amazon.co.uk/Transformations-Stories-Classroom-Phil-McDermott/dp/1782798242/ref=sr_1_4?ie=UTF8&qid=1423241491&sr=8-4&keywords=phil+mcdermott
2015 is looking to be a very exciting year for us.
April 2015 Phil's new book will be out on sale. We are very excited about this. It is called 'Transformations.' A collection of six stories to tell in the classroom, together with a practical guidance for teachers on how to make storytelling a integral part of their literacy work with primary school children.
Below is a sneak peek at the cover: Let us know what you think.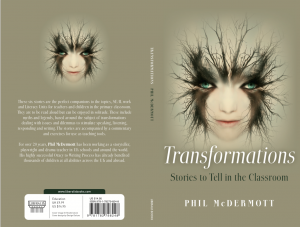 In 2015 we are  also hoping to build on the success of the Authorship Club by creating an Authorship club network, so that we can link up the different Authorship Clubs across the globe. We welcome your suggestions and ideas on this. We hope develop a newsletter, so that all the different authorship clubs can contribute and share their news, events, ideas and stories.
A Look Back on 2014.
2014 was a great year for us. We expanded our Oracy to writing work into more countries around the world. We have also expanded our long term oracy project work in many more schools in the UK, including in Richard Alibon, Merryhills, Tufnell Park, Edward Wilson and many more. These long term project have produced great result for the schools both in improvements in the children's literacy and oracy skills, but  also an increase in their confidence, self esteem and eagerness to learn more.
In September 2014- Phil's work was recognised and it's impact commented upon by Ofsted in their report on Richard Alibon primary school:
"Sessions led by a storyteller hold pupils spellbound and, as a result, pupils are keen to widen their reading experiences."
"Results of tests for pupils in Year 6 in 2013 showed that pupils were attaining at or above the national average in writing and mathematics, but below average in reading. The school acted swiftly to promote reading through, for example, the involvement of a storyteller. As a result, in 2014, results improved significantly in reading to broadly average."
Our international presence has been growing steadily. In 2014 we worked in collaboration with schools includins Turkey, Norway, Hong Kong. In Turkey the school held a storytelling competition. The three winner's stories can be found in the Childrens Library section on our website.
There is a growing understanding and appreciation across the education sector around the world, about the importance of increasing oracy in the classroom and in the home. We have proven that using storytelling as part of your literacy program in school, is a fun and enjoyable way to improve children's reading, writing and communication skills.
Among our most successful projects  in 2014 is the Authorship Club:
The Authorship Club is an home school initiative which has been imbedded in many schools in UK and abroad. To find out more see the "What we offer" section on our website.
March 2014
The Story Emporium Storytelling Competition In Turkey
The British Embassy Study Group in Turkey ran a Storytelling Competition in their school. The stories were all fantastic and beautifully told. All the stories entered, have been published on our website. They can be viewed on the site via a school account. The winners of the competition each received a certificate and a free annual home subscription to our website.
The winners in each category were:
Ages 5 to 6: Tessa – with her story: 'Bling Bling'
Ages 7 to 11: Onur – with his story: 'The Three Little Wolves'
Ages12 to 14: Lara – with her story: 'The Echo in the Dark'
The winning stories have also been chosen as stories of the month. They can be viewed on the site via a school account.
Congratulations to the winners! Well done! Great stories!!
We want to thank all the children at the British Embassy Study Group who took part in the competition and to Ann Kardas and all the staff for making it happen. Great job!
We hope you will enjoy the stories, as much as we did.
15th January 2014
Phil is off to Turkey. He's carrying out a refresher training in the Oracy to Writing process for staff, and to do storytelling sessions for the children at the British Embassy School in Ankara. His pervious visits were very successful. Here are some of the things the staff have said about his last visit:
"I have received the most wonderful feedback from children, parents and teachers who were inspired By Phil's stories and workshop. The school is now buzzing with ideas for oracy and writing." Ann Kardas
"I felt like a little girl again, hearing the stories come to life…! Thank you for such imaginative, inspirational story telling." Sam Sawyer Year 1 teacher
"Informative and inspiring. Already I've seen a positive response from my class." Sarah Tutal Year 4 teacher
"Phil's mellifluous tone brings an instant hush to any room…but his understanding of the story-telling process and how to move from oracy to writing are of even greater value." Fin McLaughlin Year 6 teacher
"Great fun, taught me how to unlock creative potential both in my pupils and myself. I strongly recommend both his story telling and his staff training." Malcolm Wood Year 5 teacher.
"I have never thought that I would live in a children`s story by only listening to it." Sibel Dilcan Turkish teacher
"After Phil`s oracy workshop although I didn't have a chance to tell my story I ended up speaking aloud my story at home, acting out each part. My wife thought I had gone mad." Tim Wilson Year 8 teacher
"Phil has the gift of mesmerizing an audience with his riveting portrayal of characters and scenes that capture your imagination." Tom Henley Year 4 teacher
"Phil's session inspired me to write again, after 47 years of procrastinating. I'm sure it will have the same effect on my pupils!" Sarah Sener EAL teacher.
Happy New Year!!
To all our members and visitors we wish you all a very happy and prosperous 2014.
2013 was a great and exciting year for us. Oracy to writing is now used in many more countries  around the world including Turkey and Norway. We have also been carrying out bespoke long term oracy projects in many schools in the UK, notably in Richard Alibon, Edward Wilson, Skinner Street, Daubeney and Rhyl primary schools. We also carried out training in many UK schools including five schools in Middlesbrough, and story telling masterclasses for teachers at St Michael's in Camden London. We also inducted our highly successful 'Boy's Writing Project' (Found Objects in The Story Emporium) in Dagenham, and our new initiative 'Talk 4 Talk' speaking and listening project for EYFS in Kent.The children achieved magnificent results in these schools. The schools have all seen increases in the children's confidence, verbal, presentational and written skills, but especially in their love and enthusiasm for learning.
Thank you  to all the children and teachers for their hard work in making these projects and initiatives  such a great success.
Finally  we wish to thank One Laptop Per Child, a USA based charity, for including our stories on all their new tablets. It is very exciting to think that children in America and all over the world can now access our stories through this brilliant charity. We  look forward to working with them in the future. For more information visit their site : www.http://one.laptop.org
Hong Kong
August 2013- Phil was again in Hong Kong, this time providing Oracy to Writing training to the staff, and storytelling with children at Harbour school and in Discovery Bay. 
    Thanks to everyone who took up our special summer offer.
We hope you all enjoy our site. Let us know what you think of the site and the stories on offer. We would love to hear from you.
Filming in Spain
We are off to Spain to do some filming. We are trying out some new stories and hope to be able to add them to the site soon.
Special summer discount: Save £181! Pay £19 only for an annual Home subscription!
In celebration of the end of the school year, we are now offering over 90% discount for all Home subscriptions purchased by 6th August 2012. Don't miss out on this limited offer. Subscribe Today!
Offer ends 6 August 2012.
Working in Budapest
We are in Budapest spreading the word about Oracy to Writing. We have met many people who are interested in what we are offering. It is very exciting. We will update everyone as soon as we get back.
Government Experts agree.
The latest report from government experts reviewing the National Curriculum have stated the importance of increasing oracy in the classroom. The report strongly advocates that oracy should have a bigger place in classroom learning, as it supports all learning throughout the curriculum.
Their report states:
'There is a compelling body of evidence that highlights a connection between oral development, cognitive development and educational attainment. Over the past four decades successive reviews, enquiries and development projects have also explored the crucial nature of oral capability within education.'
'…we believe that appropriate provision for the development of oral language would improve overall levels of attainment. The evidence suggests that curricula that are rich in provision for language and conceptual development have beneficial effects on cognition and reasoning, and thus for performance in key domains such as mathematics. Speech and language capabilities are strong predictors of school attainment and of later employability.'
At last!! The experts finally agree with us. Stories are a great and fun way to increase oracy and general attainment across the school and at home.
To read the report in full go to: https://www.education.gov.uk/publications/standard/publicationDetail/Page1/DFE-00135-2011
Welcome to all our new members.
Our Partnership with Groupon has been a great success. We now have many new members from all over the country. We hope they enjoy all the stories on the site and have great fun doing the home activities. Thank you for joining our storytelling community.
Look out for future promotions on the Groupon website, and take advantage of the over 90% discount being offered to Home Subscribers.
March 2012
Over 90% discount on Home Subscriptions, in Partnership with Groupon
We  have partnered with Groupon to offer a fantastic deal for Home Users. Over 90% discount for all Home subscriptions purchased through Groupon.
You only pay £19 instead of the normal price of £200 for an annual subscription, when purchased through Groupon.
This offer will available from the Groupon website, from 2nd April 2012. Please check out their website for details.
Please note:
Our Terms and Condition have been revised as of 29th March 2012. Please ensure that you fully read these revised Terms and Conditions. Contact us if you have any queries.
_________________________________________________________________
March 2012
Great News!
The new stories have now been added to the site. You can now access 90 beautifully told stories on our site.
We have been working in Kent and North England, implementing the Oracy to Writing Process and the Authorship club.
We have also been working in many London schools. In addition we have been working in schools in Camden to implement highly innovative project called 'Hooking the LINCCS'. An intensive storytelling and writing project in 5 Camden school.
_________________________________________________________________
Feburary 2012
We have had an extremely busy  and exciting start to the new year.  As a result filming our new stories has taken longer then anticipated. The stories are now being edited, and will soon be ready to add to the site. We hope you enjoy them as much as we have enjoyed filming them.
___________________________________________________________________________________________
June 2011
Everyone can now Subscribe
You can now subscribe to our website, it is no longer restricted only to schools. You can now access 42 entertaining stories together with fun and easy to follow activities and exercise for the home. Children learn while having fun. Click on the left to find out more.
To subscribe please fill in the registration form.
The Word is spreading. Why not come and join us.
UK School Top-Up
UK State funded schools can now Top-Up their subscription to enable all the children and parents in their school FREE home access to our website.  Please go to 'What we offer' for more details.
Please use the navigation to the left to find out about the continued success of the Oracy to Writing Process in the UK and abroad.
May 2011: Please note that the Terms and Conditions for The Story Emporium website have been revised. Please ensure that you fully read these revised Terms and Conditions. Contact us if you have any queries.